Meet Our Staff
Tristann Rieck
Store Owner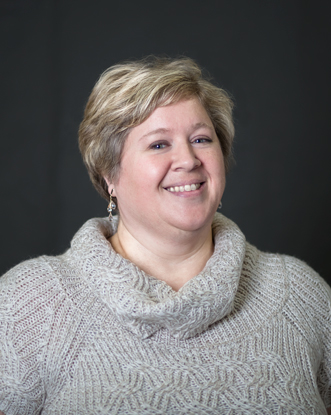 I started my career for my dad's music Store Brass Bell at the tender age of three, when I starred in a Brass Bell TV ad for Brass Bell. At fourteen, my Dad gave me my first real job (I am not sure cleaning the bathrooms when I was 7 years old really counts). I came to the store eagerly, and Dad took me to a door in the back of the store. He said "Your job will be to file this'" and grandly opened the door on a closet awash in piles of unorganized invoices. I actually enjoyed that job quite a bit. My natural shyness and love of organizing things led to me working as the administrative backbone of the company. After a little too much calculus while pursuing a degree to teach math and on the recommendation of our accountant, I pursued a degree in business administration with an emphasis on finance.
My instrument of choice, the french horn, did not come naturally to me. In fact I know I was quite bad, but I just couldn't tell my dad that I wanted to quit. My passion for playing horn and working hard to get better was sparked when the cute trumpet player behind me commented to his buddy after I filled in for our missing principal horn player that it was the best he had ever heard that solo. So thank you Bryan for being sick that day.
Asked by an interviewee about what I love about playing my french horn, my answer was that I have a beautiful image in my head of what I would like my music to sound like and on the rare occasion that I actually play like that, I feel so perfectly connected that there truly are no words to really describe the feeling (all musicians know them as the "shiver moments"). That is what I continue to play for, those precious glimpses.
During college I had the opportunity to study with Barry Benjamin on the horn and play with the Symphonic Band for the duration. After graduating and putting my horn down for a year I REALLY missed it. That reminded me that my work at Brass Bell has a bigger meaning than just any job. I have always loved music and the many benefits it has for people and the community. I myself have received valuable mentorship from other music store owners and professionals. I enjoy sharing the knowledge I have accumulated over my career. My first NAMM Fly-In in 2014 has kindled that love into a passion for connecting with people through music education advocacy and giving back to the community, fellow store owners, and my staff. I push myself and my staff to be the best version of themselves and achieve success in their pursuits.
At home, I enjoy spending time relaxing with my husband, Zachary, my three kitties, Pip, Braveheart and D'Artagnan, and doing anything that gets me outside in the sun and warmth of Summer, like gardening and, yes, even mowing the lawn.
Our love at Brass Bell is to help our customers find the right instrument, accessories and supplies to optimize their music experience!
Nick Gaulke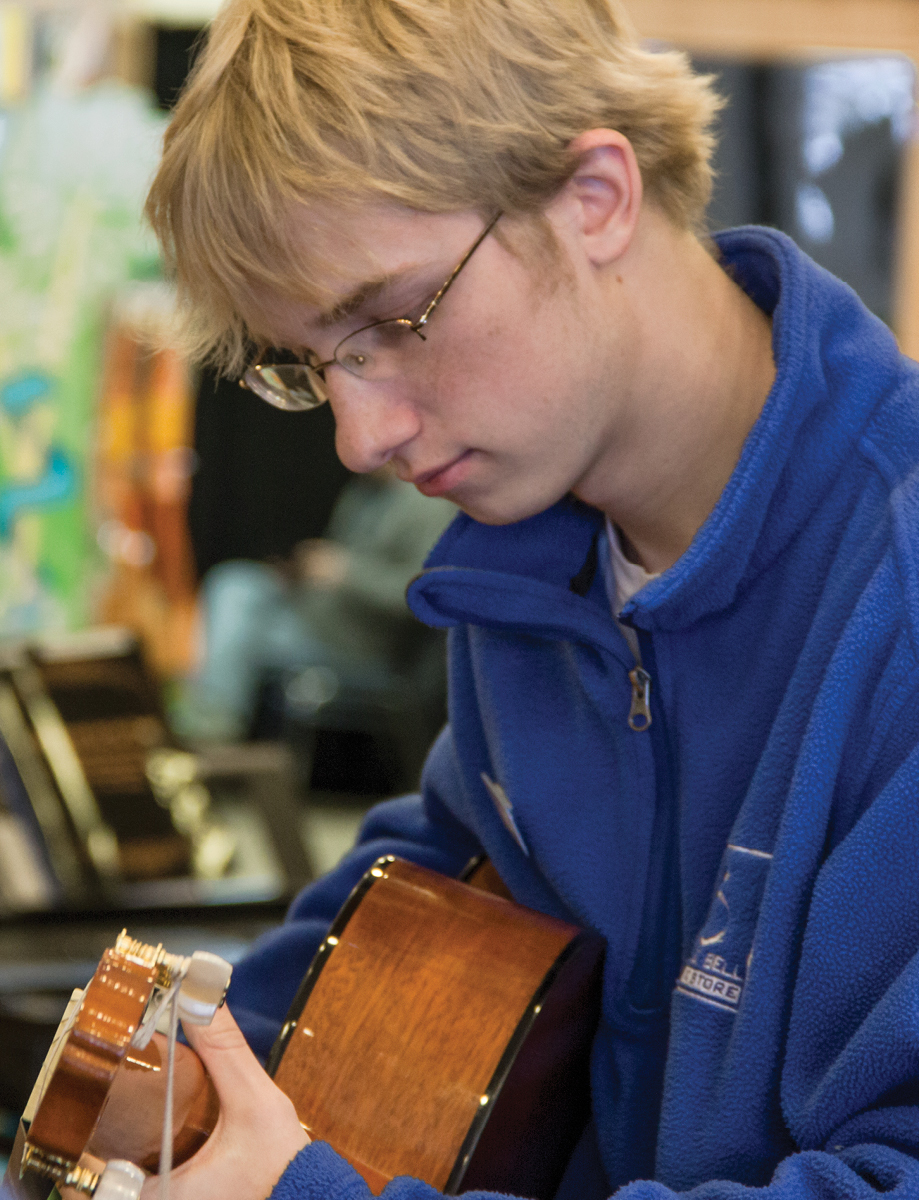 Nick has been working at Brass Bell for over 10 years! He started here with us the moment he could work at the age of 14. He is now one of the store managers in addition to running the Brass Bell IT Department. In addition to the IT and Network he has worked in every department of the store. While he may be a tech wizard, he also is a multi-instrumentalist and plays Guitar, Violin, and Viola.
Luke Jacoby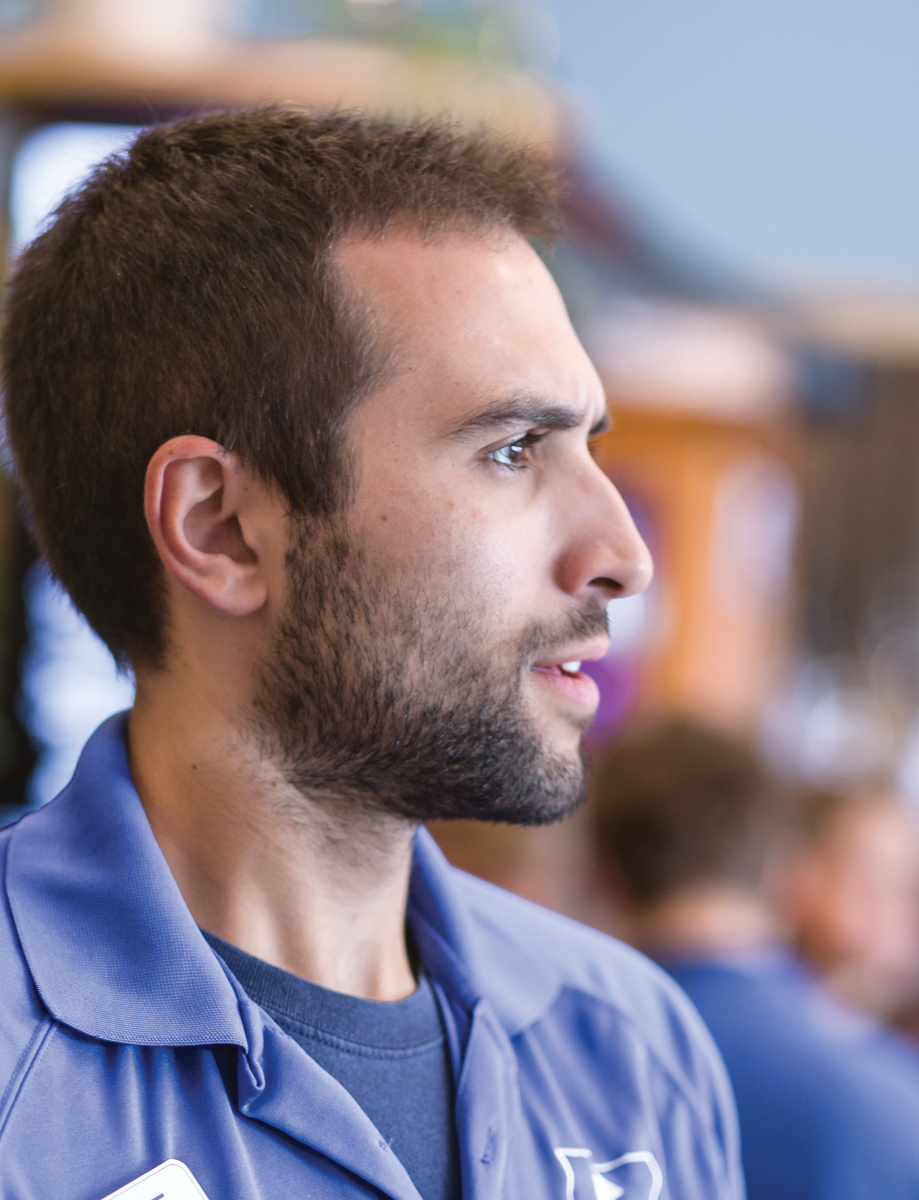 Hello! I have been at Brass Bell for over a year now in the Education dept. My main task here is to broker music lessons for our 50+ teachers. I play bass (upright and electric) and have a Bachelor's degree in Music from UW-Milwaukee. I have played in a number of orchestras, chamber groups, and bands that all have been great experiences, but have decided to slow down on performing. Right now I am focusing on being an Alexander Technique teacher (AMSAT certified), and establishing a studio of my own! I have an extensive background in food prep and catering as well, so I sweat every detail :)
Veronica Thomas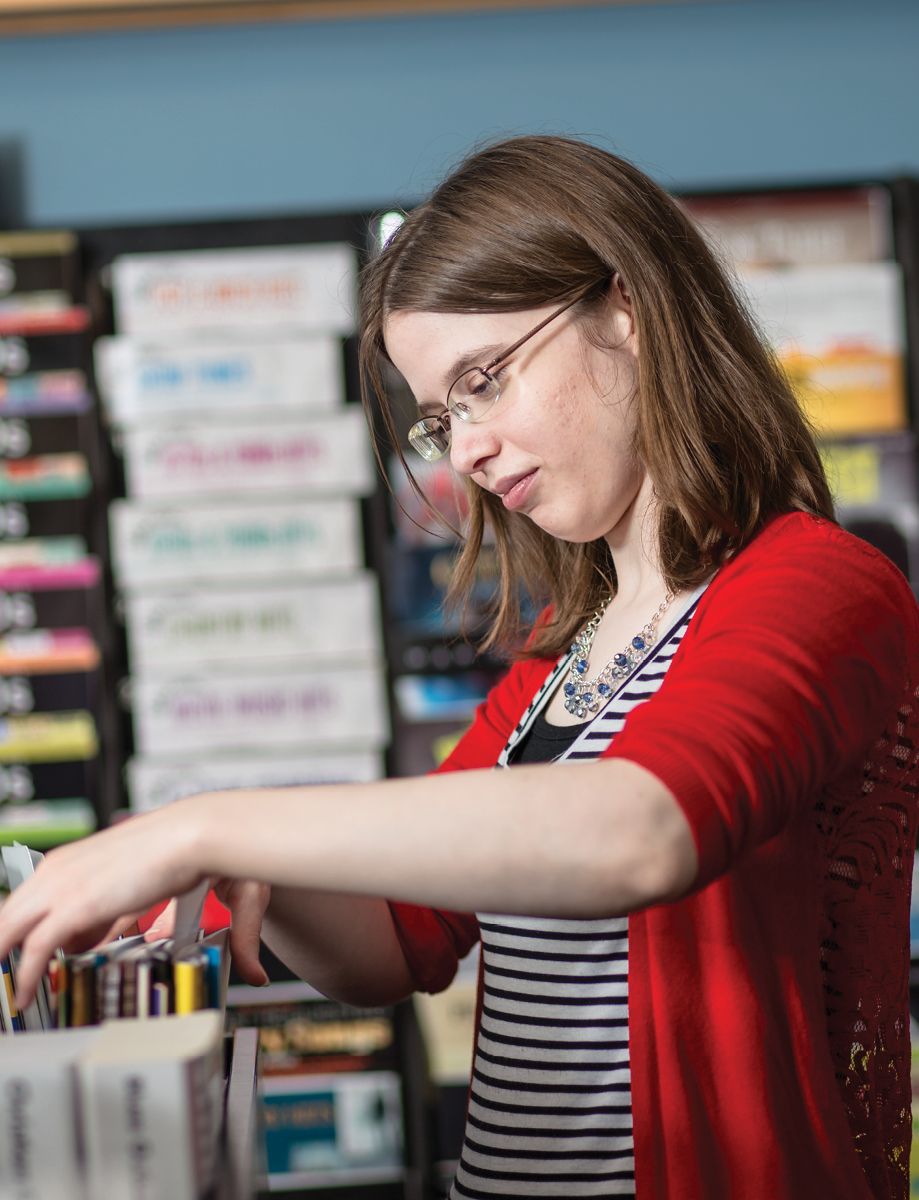 Veronica has been wearing many hats since she started working at Brass Bell in 2013. Currently she is a buyer for the Musical Gifts and Print departments, as well as a store manager.
Veronica graduated from Cardinal Stritch University in 2013 with a Bachelor of Music degree, and her emphasis was music composition. She has also spent more than half of her life singing in choral ensembles, and has been singing soprano with Bel Canto Chorus since 2013.
When she is not working at the store or making beautiful music with Bel Canto, Veronica loves watching football and baseball (she is a very loyal Green Bay Packers and Milwaukee Brewers fan), traveling, cooking, eating, gardening, and various arts and crafts activities. She also loves movies, especially the Star Wars films, and will probably gush at you about how John Williams uses leitmotifs.
Zach Spiegler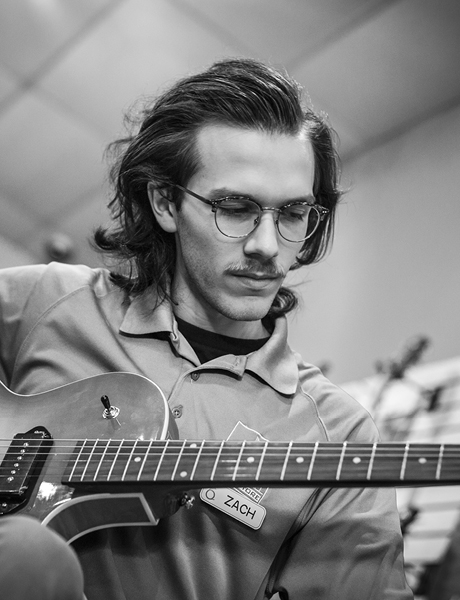 Zach is a a part of our combo department and education department here at Brass Bell. He has been playing guitar for half of his life and picked up other instruments such as drums, bass, piano, and most recently harp and recorder. After moving to Milwaukee from Janesville in 2016, he immediately started working for the Brass Bell and has been loving it ever since. His musical endeavors take up most of his time but he also enjoys long-boarding around the city, attending social gatherings, and intense culinary adventures. Zach's greatest achievement is the guarantee of a superbly crisp high five.
Julian Singh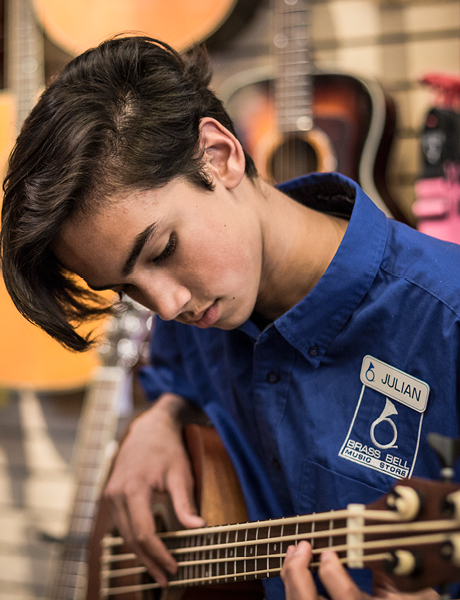 Julian works at Brass Bell Music Store as a product specialist. He has been playing drums for about eight years, as well as trombone for about four. Julian plays drums in a hard rock band called Lokke, and both trombone and drums in the conservatory honors jazz program. He attends Whitefish Bay high school and plays in the Jazz Ensemble there. Furthermore, he enjoys listening to music, creating it, and hanging outside.
David Purpura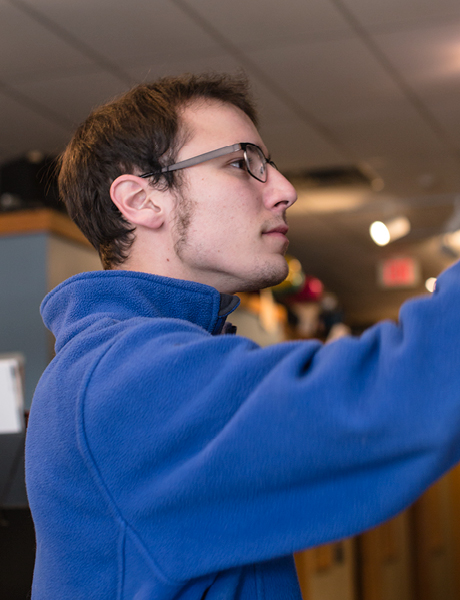 David is one of the newer members to the Brass Bell family. He is super excited to be a part of the print team which he feels is a great way to utilize his degree in Music Composition and Technology from UWM. David is primarily a percussionist, ranging from the drumset to other types of hand percussion. In addition, he also plays the guitar, piano, ukulele and sings. He is looking forward to expanding his musical horizons through his new job on the sales team.
Iuliia Mykolyk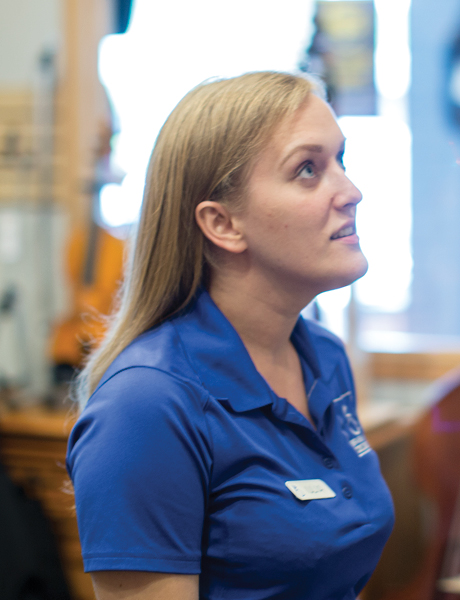 Born in Ukraine, Iuliia has been playing the violin since she was 8. After graduating from the Lviv National Music Academy where she received her Bachelor and Master degrees, Iuliia performed with the INSO-Lviv International Symphony Orchestra. She played at numerous festivals in Switzerland, France, Portugal, Italy, Germany, Spain and Poland. Five years ago, Iuliia decided to pursue her musical training in the United States. She received an artist diploma in violin performance from the University of Tennessee in Knoxville with Prof. Mark Zelmanovich in 2014. In 2015 and 2016 Iuliia played in master classes with Rachel Barton Pine, Mimi Zweig and Clara-Jumi Kang at UW-Milwaukee. She was a concertmaster of the UW-Milwaukee Symphony Orchestra. Iuliia holds a masters degree in Chamber Music Performance from UW-Milwaukee, where she studied under Dr. Bernard Zinck. As a teaching assistant, she was teaching violin to undergrad students of the UWM violin studio. As a violin instructor, Iuliia used different teaching methods and studies such as Suzuki, Franco-Belgium School, Russian School (Yankelevich) and Czech School (Ševčík and Schradieck).
Alex Fisher
Alex is a product specialist at Brass Bell and a student at Brookfield East High School. He has been a serious violinist for eight years. Alex has participated in the local Milwaukee Youth Symphony Orchestra for seven years, and is in the Senior Symphony Orchestra and Chamber Orhcestra ensembles, through which he will be playing in Ireland. He has also been a part of various string ensembles, such the Rosewood String Quartet and Dream City Strings with whom he plays at weddings and other events. Alex also has teaching experience, and currently has five violin students. Outside of school and performance, Alex enjoys video games, reading books, and composing his own music.
Michael Kochanski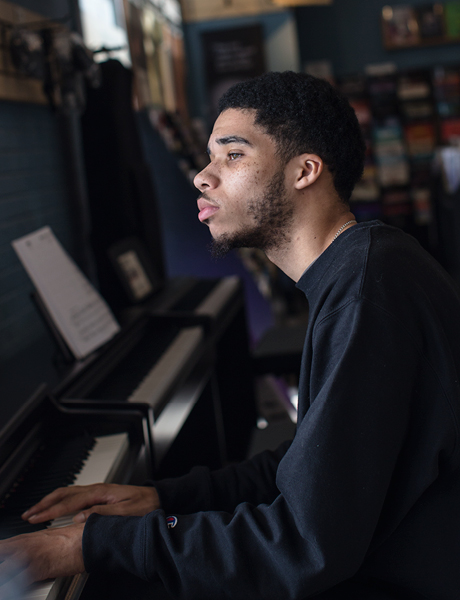 Michael Kochanski is a tech-based musician. He taught himself Piano, Guitar, and Bass! Most of his time is spent behind a computer producing, recording and engineering. He's been mixing songs for about six years and his goal at Brass Bell is to show people that you don't need to be at Abbey Road to start your music career and make amazing art. If you have any questions about the digital side of music or need some direction on building your own studio Michael is definitely the guy for you!
Colin Swinney
Colin is one of our newest team members specializing in the Combo department as well as training with our Education team at the lessons desk. A self taught guitarist since the age of 12, Colin's been an active member of the Milwaukee music scene for many years. His current focus is on the pedal steel guitar, playing a Sho-Bud double neck tuned to E9 (the "country" neck) and C6 (the "jazz" neck).
Brett Hanisko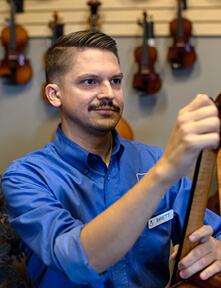 A recent addition to the Band & Orchestra department, Brett rented his first cello from Brass Bell when he started playing at age 13. He worked his way up to Milwaukee Youth Symphony Orchestra's Senior Symphony in high school and enjoyed playing principal cello in the University Community Orchestra while at UW-Milwaukee. A singer as well, Brett holds a degree in vocal performance from UWM and may be seen performing in such local ensembles as Chant Claire, Milwaukee Chamber Choir, and Bel Canto Chorus. Brett did science work in an immunology lab in a past life, but he now he enjoys sharing his passion for music and fostering it in others on a daily basis. Outside of music, Brett enjoys traveling, hiking in state parks, and studying linguistics as an amateur.
Dana DeBofsky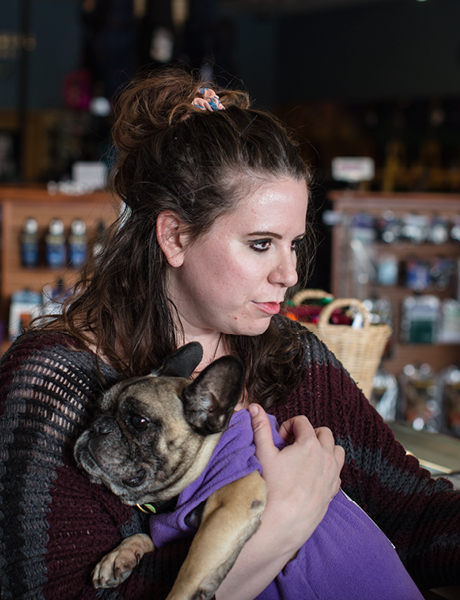 Dana is from Highland Park, Illinois and began playing the violin when she was four years old and the viola at age 17. She has a BA and BM in English and Viola Performance (with a creative writing minor) from Lawrence University, and a MM in String Pedagogy from UW-Milwaukee. She is currently back at UW-Milwaukee working on her graduate certificate in Nonprofit Management. She has attended festivals such as Interlochen, College Light Opera Company and Aspen Music Festival, and is currently a violist in the Sheboygan Symphony Orchestra as well as a regular performer for Dream City Strings in Milwaukee. Dana has been teaching violin and viola at brass bell since 2018 and has recently joined the School Services team. When she's not working, teaching, gigging or studying, she enjoys spending time with her french bulldog, Whoopi.
Andrew Slembarski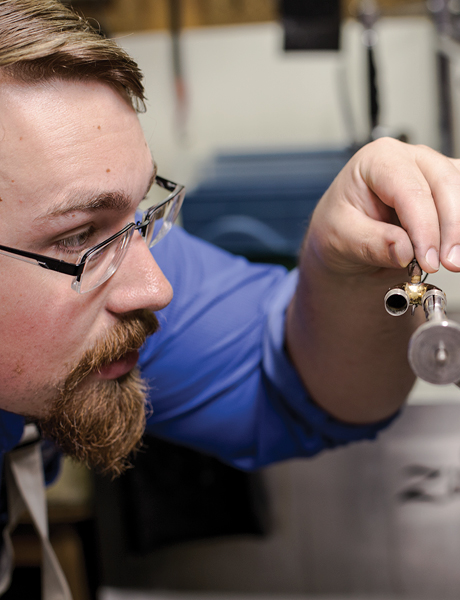 Andrew holds a Bachelor's of Music Education degree from UW-Stevens Point and a Masters degree in French Horn Performance from UW-Milwaukee. Andrew was also a Trumpet and Trombone Bell Maker at Getzen Musical Instruments in Elkhorn, WI and is a freelance musician and teacher, holding the position of Adjunct Professor of Applied French Horn at Maranatha Baptist University of Watertown, WI.
Amanda Malloy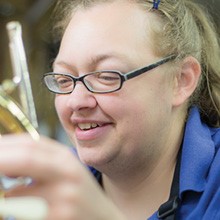 Graduate of the band instrument repair program at MSC-ST in 2003 in Red Wing, MN. She is also a NAPBIRT member. Specializes in brass and woodwind repairs. Amanda is a trumpet player and vocalist who also plays all brass, woodwind, and piano.
Brian Katz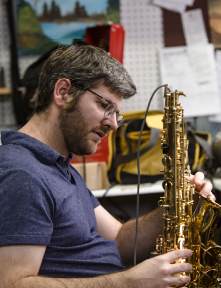 Brian Katz started his saxophone journey in 4th grade and has not looked back. Having graduated from The University of West Florida in 2003 with a Bachelor of Arts in Music with and emphasis in Jazz, he decided to continue the music path. After attending Badger State Repair in Elkhorn, he went on to study at Minnesota State College Southeast Technical also know as "Red Wing" in Red Wing MN. After graduating in 2005, he worked for Schmitt Music in the Twin Cities under the wing of Doug Kuehn(known for the Keen Clamp). Honing his skills in Minnesota he decided to make the move back to his hometown of Madison WI where he worked at Ward-Brodt Music. In 2019, he joined the Brass Bell team as a woodwind tech specializing on saxophone.
In 2011, Brian travelled to Havana, Cuba along members of Jazz at Lincoln Center to establish a repair shop and bring supplies to the country. He went back the following year and continues to work with luthiers down there via his clients who frequent the country.
Previous clients include Member of Jazz at Lincoln Center, Irakere, Youngblood Brass Band, Bon Iver, and many more including local symphony musicians and jazz players.
As a player, Brian has performed with members of The Tedeschi Trucks Band, Parliament/Funkadelic, Andrew Bird,Prince, and The Dixie Chicks.
Glenn Schumann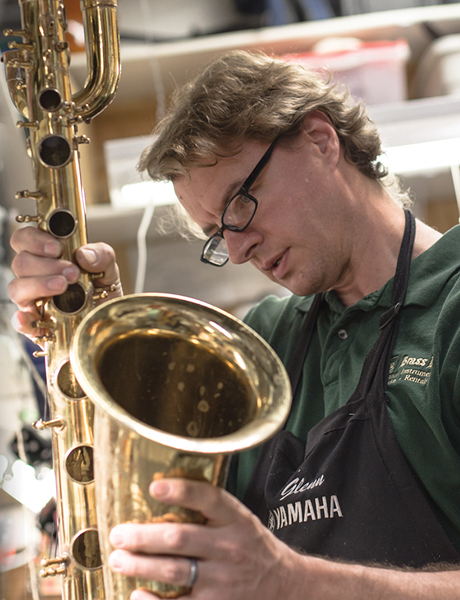 Glenn started renting his first saxophone and took lessons at Brass Bell with Julie Wood back in the early 80's. He repairs woodwinds and brass instruments after spending 12 years working in the architectural industry on large hospitals.
Mark Pierret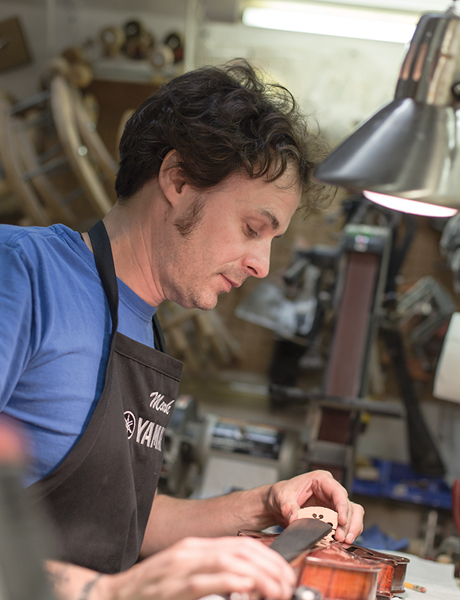 Repairing instruments since '99. Mark specializes in stringed instruments and drums. He is also proficient with brass and woodwind instruments, guitars, electronics/amplifiers, and keyboards. Mark is a drummer, vocalist, guitarist and bass guitarist.
Nick Miller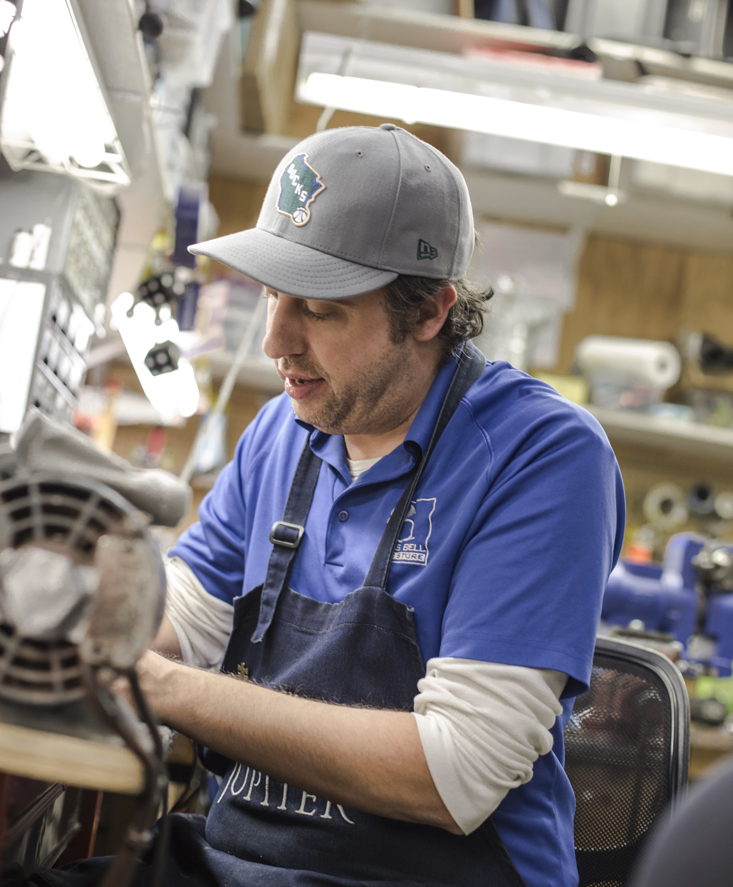 Graduate of Band Instrument Repair and Guitar Construction/Repair at MSC-SE (Red Wing) and Graduate of Amplifier Construct at Roberto Venn Luthiery in Phoenix, AZ. Nick is a NAPBIRT member who specializes in woodwind repairs, builds guitar effects units, and plays guitar, brass, and woodwind instruments.
James Berry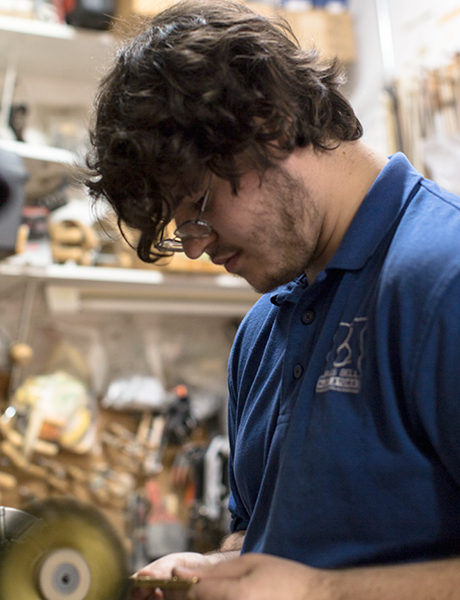 Graduate of MSC Southeast in 2018 in Redwing, MN. He started his career as a technician in Nashville, TN before moving back up north to Brass Bell Music. He's a woodwind and brass technician, but focuses more on woodwinds.
Diane Giaccobassi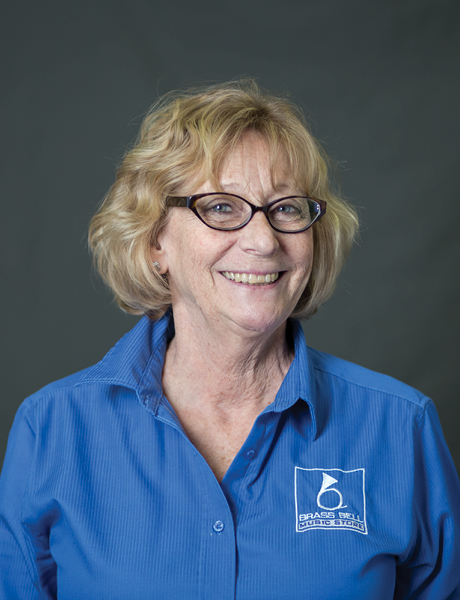 I am a wannabe musician who loves classical, jazz, big band, swing, and some rock (in no particular order). I may be the senior-most associate at Brass Bell, but I can say something that I don't think anyone else here can: I heard both Jimi Hendrix and Janis Joplin live in concert. Bucket list of instruments is full. Bag Pipes anyone?
Andi Heath
Meet Andii Heath, our handy and helpful Office Assistant! Andii makes sure everything on the office side of our store runs smoothly by taking care of supply ordering and assisting in day-to-day projects alongside other staff members. When she isn't helping us stay on track at the store, Andii performs locally and regionally in a number of musical projects, including her own solo project, ANDII & the BANDII. Additionally, she performs with a funk band, Conscious Congress, and occasionally sits in with other bands and projects in the Milwaukee area providing vocals. To catch a show or hear more about the music Andii makes when she isn't organizing our office, visit her website at www.andiimusic.com or find her music page on Facebook by searching "ANDII".
Lizzy Cichowski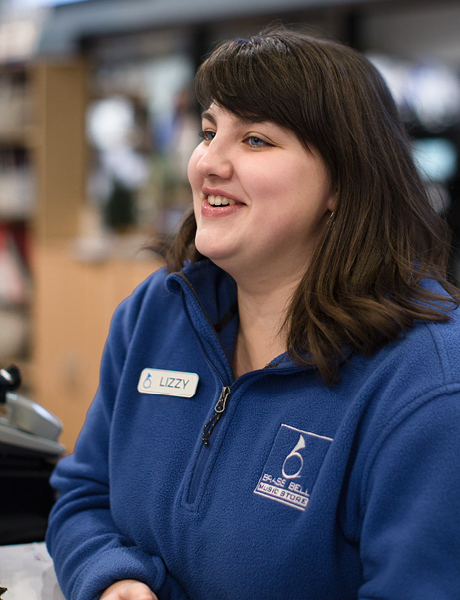 "An Illinois native, Lizzy ventured up to Wisconsin in 2015 for an internship at Birch Creek Music Performance Center in Door County, and never quite made it all the way back. Lizzy is a graduate of Bradley University with a degree in Music Business, emphasizing in bassoon and voice. Aside from the amazing community and staff, Lizzy's favorite part of working at Brass Bell is that she learns something new and exciting about the musical world each time she enters the store. When she is not at Brass Bell, Lizzy can be found running along Lake Michigan, baking festive treats, or playing with the Milwaukee Manatees underwater hockey team".
Jeanne Salmon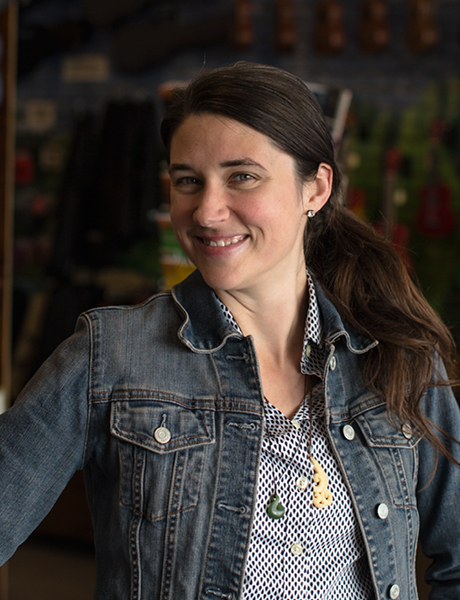 Jeanne Salmon is the Accounts Receivable/Collections Officer, and facilitates the monthly all staff meetings and trainings. She comes to Brass Bell Music with a background in non-profit and summer camp management. Jeanne started playing trumpet in 4th grade, and while she hasn't kept that up, she enjoys whistling and occasionally singing karaoke. Her favorite hobbies are traveling the world, scuba diving, crafting, and spending time outdoors. She is also a diehard Harry Potter fan.