Student of the Month
---
November 2023
Autumn Heffernan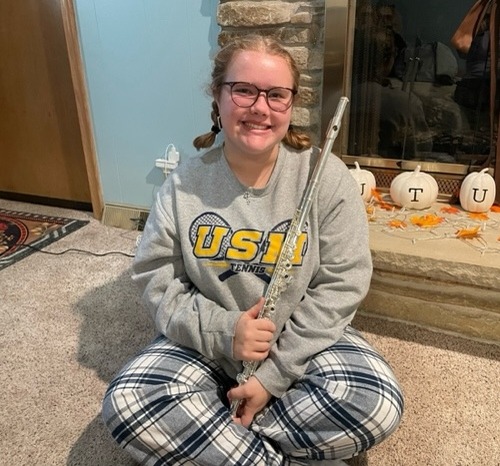 Autumn Heffernan is a flute student of Jennifer Burke and has been playing the flute for over seven years.
Autumn's greatest musical accomplishment so far was being accepted to the MYSO Chamber Flute Ensemble. Her goal this year is to participate in Solo and Ensemble competition, and she's also planning to pursue a performance degree in college once she graduates.
All of Autumn's siblings played instruments growing up, so she was inspired to play at a young age, and quickly fell in love with the sound of the flute.
She finds music relaxing, and especially appreciates the opportunities to meet new people and players. Some of her favorite musical experiences have been playing piccolo in the pit orchestra for a performance of the Little Mermaid, and her first concert at USM where she played solo, which totally changed her perception of performing live music.
Autumn's favorite artist is James Galway, an amazing artist and flutist, who shared his tips on how to perform "Carnival of Venice," one of the first solos that Autumn ever played. She also looks up to her school band director, and MSO principal flutist, Sonora Slocum.
Autumn also plays piccolo and alto flutes, and when she's not busy practicing, she enjoys musicals, traditional folk songs from different cultures, reading, and playing tennis and soccer.